My Screenplay Is Done. Now What?
Dear Scriptologist.com,

What advice would you give to a new screenwriter like me. I've completed the second draft of my feature length screenplay, and I'd like to get it into the hands of people who can point me in the right direction.

I've been looking into script coverage services like ScriptShark.com and workshops like Writers Boot Camp. Do any of these hold any more merit than the other? Or does it simply depend on the screenplay and the quality of the writing? Read more...

—Julio Antonio Toro
Writer/ Director
HollyHood Productions
www.hollyhoodproductions.com
http://blogs.scriptologist.com/jtoro/

Action
Dear Scriptologist.com,

I am writing a screenplay in which there are many Kung Fu scenes. Obviously I don't know Kung Fu. so how can I write the fight scenes for my screenplay? Thanks. Read more...

—Jase1

Post your questions on the Scriptologist.com Message Board.




How To Be A Top-Notch Film Blogger
Film blogging doesn't have to be difficult. In fact, it can be downright easy. A blog is basically a daily diary. As such, it can be written in a conversational style that utilizes comments about storytelling techniques.

When writing a blog article about filmmaking or screenwriting, find a film you're familiar with and comment on the film's use of character development, plot structure, dialogue, or pacing.
Read more...

Start Networking With Filmmakers, Screenwriters, and Actors.
We are very impressed with the quality of the blogs in our network. We believe that more filmmakers, actors, and screenwriters are starting to discover the benefits of blogging.

There are many ways to use your blog as a powerful tool to promote yourself.

1. Screenwriters can post samples of their writing.
2. Production companies can list their film projects.
3. Actors can upload headshots and resumes. Read more...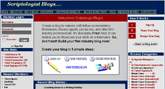 Read What Our Bloggers Are Writing:

The Time Is Right …By Eric Nichols
My hard sci-fi novel, Plasma Dreams, was finally published after seventeen years.
Read more...

Sample of My Work …
To give you an idea of how my second screenplay is progressing, I'll post what I have for my script so far. Read more...

Slow (e)motion …By Robert T.
I've slowed down the telling of my story in ACT II to create more of an emotional connection to my readers. It's working so well… Read more...

Meet Black Ink Films …By Aaron Gentzler
Black Ink Films is a Baltimore-based production company founded by Screenwriter/Director Aaron Gentzler and Producer Stacie Jones. Read more...

Paul Watson Has 120 Pages To Go …By Paul Watson
I'm proud that I hang out with writers learning this craft. Read more...

And So It Begins …By John Tony
I've been trained by a SAG-affiliated actress, done a little bit of theater work here and there, and I'm developing a few screenplays. Read more...

Urban Mediamakers Film Festival …By UMFF
The Urban Mediamakers Film Festival (UMFF) takes place annually in October in Atlanta, Georgia. The three-day festival [holds] 1,000+ minutes of independent film screenings from around the world. Read more...

A Return To Life - The Short Documentary About My Stepdad …By C.T.H.
This short documentary is about my stepdad and his life at home after spending 20 years in prison in Upstate NY. It is currently in pre-production. Read more...

Six Man, Texas …By Tom Chamberlain
I'm Tom Chamberlain, and I've been an actor and filmmaker in Austin since 1990. The blog name, ChamberMade, is also my production company's name. The title of this entry is the title of the documentary film I'm helping along in the birthing process. Read more...

My Inspiration …By Julio Toro
[I'm] trying to write more every day… I love this woman [Sue]. I started writing again because she loved me. And not just writing for the sake of writing. For the first time in my life, I began writing with a purpose. Read more...

Greetings …By Angela Schultz
Blogs like this are wonderful because they are great for like-minded individuals to connect. Great stuff! Kudos to all of you! Read more...

My First Paying Gig …By Megalomaniacal Actor
I know I say this quite a bit, but I just started this whole filmmaking/acting gig fairly recently [and] I am amazed at how fast my career is moving. I've been gathering contacts of top Hollywood producers, got a nice job at a local TV station as a producer, and now I just got cast in my first film. Read more...

Black Ink Films & The Cinema Lounge …By Aaron Gentzler
If you're ever in the Baltimore/D.C. area on a Wednesday night, stop by Gardel's supper club, as Wednesdays are reserved for the screening of local independent shorts and features. Read more...

Yielding To Common Sense …By Chalkie
Under the weight of sound rational arguments by several members of my screenwriting guild, I have decided to push myself on the screenplay I started, which, after all, can be finished well before a 50,000-word novel. Read more...

Writing For Myself …By Cristy Lawler
I actually started working on my script again today. The odd thing is that it was much easier with the girls sitting beside me playing than my sitting alone by myself. Read more...

When Lightening Strikes …By Megalomaniacal Actor
I'll admit that I've been pretty blessed since I've been trying to get into the industry. However, success may be easier to achieve than you think. Here's how I've been successful so far... Read more...

I'll Be At The Indie Gathering This Weekend …By Jay Rossi
Hundreds of independent filmmakers and those who work in films from all over will be there. Read more...

See How Our Bloggers Are Collaborating:

Wise Words Indeed …Posted by Julio Toro
Thanks for the reminder. I admit that I subconsciously do this when I write. I keep in mind what my resolution will be… Read more...

How Do You Do It? …Posted by WhenLightningStrikes
I've been stopping by your blog and, to hear the tone with which you talk about getting gigs, contacts, and the like is, well, enviable. I always struggle with those aspects of the business. What's your secret? Read more...

Join The Scriptologist Blogs Network
Create a blog to network with fellow screenwriters, filmmakers, literary agents, actors, producers, and other film industry professionals. It's absolutely free! And, it can enable you to showcase your skills as a filmmaker.

So, don't wait! Build your film industry blog now! Sign up for a free blog!

Blogs Directory
All bloggers can now add their sites to the Scriptologist Blogs Directory.
Listing your blog in the directory is a great way for you to promote yourself.
There are many directory categories to choose from: Screenwriters ,
Production Companies, Digital Video, Actors, and many more...

If you have already created a blog in our network, you can click here to add your blog to the directory.

Discuss your blogs on the Scriptologist Message Boards.






Seeking Talented Collaborators To Rewrite Feature Film
We're seeking a talented writer or team of writers to combine great action with witty dialogue. Please contact me for more details and to request a current copy of the feature film script. The project is tentatively scheduled to begin shooting in late August. Read more...

Seeking Interns & Writers
We are an independent film company based in Detroit, MI, and we're seeking someone who can re-work the plot structure for our screenplays. All our films have major distribution, and this can be great exposure for you in the film industry. Read more...

Qualified Screenwriter Wanted
Screenwriter wanted to work with me to produce a script treatment of my story, which is currently being written as a novel. If you are qualified and currently submit scripts to film studios, this could be the next big thing. Contact me for more info. Read more...

Very Experienced Screenwriter Available
Need someone to write your script? I have over thirty produced films to my credit. I can write your script from scratch. I can also write your script from your ideas or polish up a script you already have. Read more...

Place a free ad in the Scriptologist.com Classifieds

Get script coverage That Sells Your Screenplay
Glenn Bossik, Co-Founder and Editor-in-Chief of Scriptologist.com, will personally provide you with valuable self-help coverage and an incredible sales pitch that can get your screenplay read by film industry executives. Read more..




Screenplays, Literary Agents, Production Companies, Film Schools, Film Resources
Script Consulting, Screenwriting Magazines, Software, and much more...

Get your filmmaking business or Web site listed in the filmmaking directory.
Click here to post a free listing.

Scriptologist.com www.scriptologist.com
Address: 13830 Oneida Drive, Apt. E2, Delray Beach, FL 33446
Phone: (561) 450-8157 E-mail: glenn@scriptologist.com