Creating A Fast-Paced Script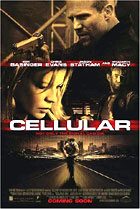 The film, Cellular, creates a fast pace by weaving a story around characters who must complete specific tasks and overcome obstacles within a limited period of time.

In the film, a young man named Ryan receives a phone call on his cell phone from Jessica Martin, a woman who has been kidnapped and imprisoned in an attic. Jessica salvages a broken phone in the attic and calls for help, reaching Ryan on his cell phone.

Ryan must find Jessica before the kidnappers kill her and before his cell phone battery dies.

While trying to find her, Ryan tries to prevent her husband and son from being kidnapped by her abductors. Ryan's efforts are repeatedly thwarted by the abductors, a group of corrupt cops.