Creating Characters Based On Personality Type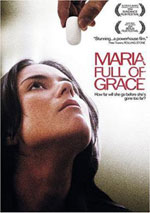 Screenwriters often use a character as a jumping off point to write a screenplay. A fireman, mobster, spy, politician, socialite, or artist can be a type of character used as a protagonist in a screenplay.

While the main character in a screenplay is uniquely individual, he still embodies the general characteristics of the archetype he was modeled after. An archetype is a type of character.

Joshua Marston wrote the screenplay for the film, Maria Full of Grace, because he was intrigued by the archetype known as a drug mule—someone who swallows pellets of heroin and smuggles them into another country. Marston's protagonist, Maria Alvarez, is based on a dug mule archetype. Maria has many of the characteristics of a typical drug mule. She is trapped in a life of boredom and poverty in rural Columbia with little opportunity to escape. Maria's actions—what she does to survive—define her specific type of character.

In the process of creating the character of Maria, Joshua Marston interviewed people who became drug mules, customs officials who dealt with them, doctors who treated them, and many others involved in drug trafficking so he could understand why a person would become a drug mule.