Writing A Script About Cultural Opposites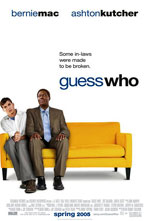 In many riveting films, characters clash with each other because they come from different cultures. This clash often involves the protagonist traveling to a different city, state, or town to solve a problem or achieve a goal.

In the comedic film, Guess Who , a young stockbroker named Simon Green (Ashton Kutcher) travels to the New Jersey suburbs with his fiancée, Theresa (Zoe Saldana), to visit her parents. There's one catch, though. Theresa's father, Percy Jones (Bernie Mac), is black and doesn't know that Simon is white.

The inevitable problems occur as Simon tries to prove that he's good enough to marry Percy's daughter. He must struggle to show that he shares the same family values as Percy and isn't a racist. While engaged in this struggle, Simon temporarily alienates Theresa and must then prove to her that he's an honorable man.

Guess Who focuses on the humorous aspects of conflicts that can occur when people from different cultures meet.