The Reality of "The Texas Chainsaw Massacre"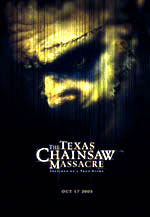 By Glenn Bossik
September 29, 2003

Scott Kosar's screenplay for the remake of the "Texas Chainsaw Massacre" (http://www.texaschainsawmovie.com/) film combines the essence of a real-life serial killer with the feel of the original film about that killer.

To create this combination, Kosar defines each character and puts them in situations that capture the psychological tension of the original film, which tells the story of "five young adults" who must fend off a chainsaw-wielding killer in a Texas town.

"When the script was written, Scott Kosar gave a description for each character…," says Executive Producer Andrew Form.

Form adds that Kosar's description of Erin (Jessica Biel), the main character, reads: "…she would be Miss Texas if she wasn't such a tomboy."

Jessica Biel, the actress who plays Erin, elaborates on this characterization by saying: "She [Erin] is one of the stronger characters in the film because when things really start to go bad for her and her friends, she doesn't lose her mind. She desperately tries to hold everyone together."

Things do indeed go bad for the five young friends in "The Texas Chainsaw Massacre."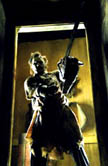 After they stop to help a bloody teenage girl who is wandering on a local road, they end up at the farmhouse of Thomas Hewitt/Leatherface (Andrew Bryniarski), a character who is rumored to be based on real-life serial killer Ed Gein ( http://www.crimelibrary.com/gein/geinmain.htm).

Screenwriter Scott Kosar had the task of making Hewitt lifelike and capturing the essence of the original film in a way that would satisfy the filmmakers.

Screenwriter Scott Kosar had the task of making Hewitt lifelike and capturing the essence of the original film in a way that would satisfy the filmmakers.

"After my first meeting [with the filmmakers], I realized they didn't want to delve into an exploitation of the material," says Kosar. "…instead [they] were hell bent on making a very frightening version of the original that would operate on the level of suspense and psychological terror as opposed to repulsion."

To capture this suspense and terror on film, the filmmakers used a shooting style and acting rehearsal style that worked together synergistically.

"Rarely are films shot in [script] sequence, but we thought it made sense to shoot this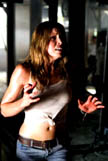 film that way…," says Executive Producer Andrew Form, describing the shooting style.

Producer Michael Bay agrees with the use of this style, saying that it helps the acting performances.

These performances were further enhanced with a unique rehearsal style. Executive Producer Brad Fuller says that prior to filming, he had the members of the cast rehearse with each other during the day and dine out with each other at night many times so that they would develop friendships with each other that would mirror the onscreen friendships of the film.

Actress Jessica Biel feels that this rehearsal style worked very well. "Everyone bonded really quickly and it genuinely felt like we had been lifelong friends," says Biel.

This camaraderie was enhanced by the screenplay, which Biel describes as being realistic.

The feeling of realism captivated Director Marcus Nispel (http://www.marcusnispel.com) . "When I first read the script I couldn't take it out of my hands," says Nispel.

When New Line Cinema (http://www.newline.com ) brings Nispel's remake of "The Texas Chainsaw Massacre" to theaters across the United States, audiences will be just as riveted as he was.



Crew
Director: Marcus Nispel
Producers: Michael Bay and Mike Fleiss
Executive Producers: Ted Field, Jeffrey Allard, Guy Stodel, Andrew Form,
and Brad Fuller
Screenwriter: Scott Kosar
Director of Photography: Daniel Pearl
Production Designer: Greg Blair
Costume Designer: Bobbie Mannix
Special Effects Makeup Artist: Scott Stoddard
Special Effects Coordinator: Rocky Gehr
Editor: Glen Scantlebury
Composer: Steve Jablonsky

Cast
Erin: Jessica Biel
Morgan: Jonathan Tucker
Pepper: Erica Leerhsen
Andy: Mike Vogel
Kemper: Eric Balfour
Jedidiah: David Dorfman
Sheriff Hoyt: R. Lee Ermey
Hitchhiker: Lauren German
Thomas Hewitt/Leatherface: Andrew Bryniarski
Old Monty: Terrence Evans
Luda May: Marietta Marich
Henrietta: Heather Kafka