"The Butterfly Effect" Alters Reality On Screen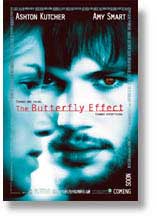 By Glenn Bossik
December 27, 2003

Together, Eric Bress and J. Mackye Gruber wrote and directed "The Butterfly Effect," infusing the supernatural story with elements of reality to develop the plot and define the fictional main character, Evan Treborn (Ashton Kutcher).

In the film, Evan tries to change the past. After having a traumatic childhood and acquiring a psychological disorder that erases his memories of that childhood, he mentally travels back in time and tries to create a happier past for his friends and for Kayleigh Miller (Amy Smart), the woman he loves.

Unfortunately, by changing events from the past, Evan creates a butterfly effect, a phenomenon in which small changes to the past events of various people's lives result in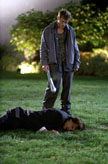 Tommy (William Lee Scott) and Evan (Ashton Kutcher) fight in the New Line Cinema thriller, The Butterfly Effect.

massive, unexpected changes to the present-day lives of those same people.

Ashton Kutcher, the actor who plays Evan in "The Butterfly Effect," indicates that Eric Bress and J. Mackye Gruber, the men who wrote and directed the film, have made it a logical story.

"They can justify every movement, every line in the script," says Kutcher. 'They know it intimately.

Co-writer/director J. Mackye Gruber agrees. "Every character and nuance comes from our hearts," says Gruber.

The story of "The Butterfly Effect" defines the heartfelt love that the main character, Evan Treborn feels for Kayleigh, the woman whose life Evan changes in a series of alternate realities triggered by his use of time travel.

"The consistent thread through all of the alternate realities is our undying love for each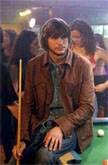 Ashton Kutcher stars as "Evan" in New Line Cinema's thriller, The Butterfly Effect.

other," says Actor Ashton Kutcher, who plays Evan in the film.

This unfulfilled love affair serves as the focus of the story and the main element used to develop the character of Evan.

"…the first thing that triggers Evan to go back and try to change things is that he finds out Kayleigh still cares for him," says Kutcher.

The fictional love affair between Evan and Kayleigh made "The Butterfly Effect" a character-oriented story.

Film editor Peter Amundson took that into account while working on this film. He states that he concentrated on the story and the characters when editing various sequences.

He explains his reason for doing so by saying, "This film takes us on an interior, psychological ride rather than being manifested visually all of the time."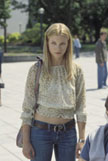 Amy Smart stars as "Kayleigh" in New Line Cinema's thriller, The Butterfly Effect.



Amy Smart, the actress who plays Kayleigh in the film, expresses similar sentiments.

She says that the cast members are "…constantly on this roller coaster ride of different emotions and different places, trying to keep up with the intertwining of past and present."

On January 23rd, 2004, audiences across the United States will witness "the intertwining of past and present"--an experience known as "The Butterfly Effect" ( http://www.butterflyeffectmovie.com/).



Crew
Screenwriters/Directors: Eric Bress and J. Mackye Gruber
Producers: Chris Bender, A.J. Dix, Anthony Rhulen, and J.C. Spink
Co-Producer: Lisa Richardson
Executive Producers: Toby Emmerich, Richard Brener, Cale Boyter, William Shively, David Krintzman, Jason Goldberg and Ashton Kutcher
Director of Photography: Matthew F. Leonetti, ASC
Production Designer: Douglas Higgins
Editor: Peter Amundson
Costume Designer: Carla Hetland
Composer: Michael Suby

Cast
Evan Treborn: Ashton Kutcher
Kayleigh Miller: Amy Smart
George Miller: Eric Stoltz
Tommy Miller: William Lee Scott
Lenny Kagan: Elden Henson
Evan Treborn at 7: Logan Lerman
Thumper: Ethan Suplee
Andrea Treborn: Melora Walters
Evan Treborn at 13: John Patrick Amedori
Kayleigh Miller at 13: Irene Gorovaia
Lenny Kagan at 13: Kevin Schmidt
Tommy Miller at 13: Jesse James