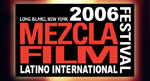 Edwin Pagan, the vice-chair of the National Association of Latino Independent Producers (NALIP) and president of NALIP New York, served as the Director of Cinematography. The ominous score was composed by NALIP-Austin's own, Joe Basquez.

The Reckoning was shot entirely on a Panasonic DVX-100A at 24 fps in the Bronx, NY. The seven-day shoot included two grueling nights in the woods, lugging equipment in
ninety-degree heat. "It was guerilla filmmaking at its best," said Julio Antonio Toro, the director. "I still have nightmares over it. The cast and crew worked tremendously hard, and this story is just as much their vision as it is mine."

The film will premiere on Saturday, Oct. 14, 2006, at 8:00 p.m. and will be shown again as part of the Short Film Series on Sunday, Oct. 15, 2006, at 7:30 p.m.

To view The Reckoning at the Mezcla Latino International Film Festival, contact the Bellmore Movie Theater at 516-783-3199 or 516-679-0891

.