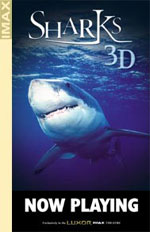 IMAX Expands For Moviegoers 12/21/04

IMAX Corporation (NASDAQ: IMAX), creator of the big-screen IMAX film format, has expanded its creative and territorial reach with new marketing and theatre chain partnerships, and with a new 3D film.

The company is partnering with Fandango (www.fandango.com), an online seller of movie theatre tickets. The marketing partnership will enable moviegoers to find out what's playing at IMAX theatres and to purchase tickets for IMAX films.

IMAX Corporation is also partnering with the movie theatre exhibitor, National Amusements Inc., which has opened four new IMAX ® theatres. These theatres are located in White Plains, NY; Buckland Hills, Connecticut; Louisville, Kentucky; and Springdale, Ohio. All four theatres have been equipped with the IMAX ® MPX ™ system, which makes it possible to convert 35mm theatres into IMAX theatres.

On December 15, 2004, Sharks 3D, a three-dimensional IMAX film, premiered at the Luxor IMAX Theatre in Las Vegas, Nevada. The film gives moviegoers the experience of swimming with the endangered Great White, Whale Shark, and Hammerhead shark.

In March 2005, Sharks 3D will be released in IMAX theatres in the United States. The film will then be shown in nine other countries.