Marston Wins IFP's Best First Screenplay Award 3/1/05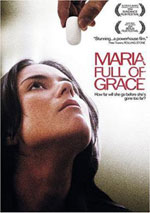 On February 26, 2005, Writer/Director Joshua Marston won the Best First Screenplay award at the IFP Independent Spirit Awards for his film, Maria Full of Grace, a story about Maria Alvarez (Catalina Sandino Moreno), a 17-year-old woman who becomes a drug mule to escape her life of poverty and hopelessness.

The Spirit Awards is an annual ceremony held by IFP/Los Angeles , an organization that provides independent filmmakers with advice, educational programs, affordable film equipment rentals, and job placements.

Maria Full of Grace embodies the independent spirit that IFP champions. To write the screenplay for this film, Joshua Marston did extensive live research, interviewing drug mules, customs officials, and people familiar with the lifestyle of the characters he wanted to depict in the film.

Ultimately, Marston developed a character-driven script. He feels that it's not exclusively about drug mules. "…we developed a script that was less and less about a drug mule, and more and more about a young woman trying to break out and kick against a world that seemed to be pressing in on her, in order to achieve something more," says Marston.